CUSTOM BUILT KARAOKE SYSTEMS FOR PROFESSIONAL KARAOKE SHOWS, BAR SYSTEMS AND HOME USE FROM
Every customer is different. Everyone has a different set of needs. Even down to something as simple as where you rack your equipment makes a difference. Understanding the applications BEFORE you design the system. No matter where you buy. DON'T just purchase a system you see online. Spend the time to have someone understand your needs on a level that 99% of this industry just does not get or comprehend! We do EVERYTHING from the heart here!
QSC AUDIO K12, KSUB PRO KARAOKE DJ SPEAKER SYSTEM
QSC Audio does DJ, Karaoke and live sound system products so well that the K Series speakers are the best selling speakers on the market, in their price range, today. The K12 and K Sub both have an integrated 1000 watt amplifier driving the components of each cabinet with the dependability and warmth that QSC amplifiers are known for.
QSC AUDIO K12 TOTE BAG
QSC Audio provides Tote Bags for every speaker in the K Series or KW Series line of speakers. These totes are made of heavy duty nylon/Cordura material canvas which is weather resistant and lined with padding for extra protection.
QSC AUDIO K SUB TOTE COVER
Ditto to the statement about the K12s, above, for the QSC Audio K Sub.
ALLEN&HEATH ZED 12FX LIVE SOUND KARAOKE MIXER
Allen & Heath only does ONE thing; they make audio mixers. Allen & Heath became famous after making the touring board for Pink Floyd back in the 70s. Since then, they have become one of the leading manufacturers of live sound, karaoke system and DJ system mixers in the industry. The ZED 12FX is loaded with features found on their professional touring boards and provide an economical and simplistic way to bring quality sound to your karaoke show or small band. Manufacturers Details:
Allen & Heath ZED 12FX
ART HQ231 DUAL CHANNEL EQ W/FEEDBACK DETECTOR
ART (Applied Research Technologies) has been around for 25 years and is a member of the Yorkville Sound Group. ART primarily deals in pro audio live sound processing equipment which makes their products a great fit in our professional karaoke systems. This ART HQ231 is a dual 31 channel equalizer with feedback detection and LED indicators on each frequency to provide a quick visual indication of the offensive feedback frequency and gain levels across the spectrum.
Manufacturer Details:
ART HQ231 Dual Channel Equalizer
BBE 382iSW SONIC MAXIMIZER W/SUBWOOFER X-OVER
Patented BBE technology can be seen in devices ranging from home stereos to professional karaoke systems like this one. The BBE 382i SW Sonic Maximizer brings all frequencies back into their proper order and peaks out high and low frequency curves of your music. This unit also has a mono sub out to be able to blend subwoofer frequencies and levels from your karaoke system. Details:
BBE 382i SW
BESTMEDIA BM482u DUAL UHF WIRELESS MICROPHONES
BestMedia USA is a karaoke equipment company with a small but dependable inventory of karaoke products. Their catalog of products is about twenty. But, it's twenty products that have very few returns, are a huge bang for the buck and have been consistently keeping customers happy for years. We supply the BM 482u because of the clarity of sound, the versatility of multiple UHF frequencies, the recharge option, the dependability and the price. You can't do much better for $239. Manufacturer's Details:
Best Media BM482u
EV N/D-767 PRO SUPER-CARDIOID VOCAL MICROPHONE


EV Electrovoice is the oldest international microphone and pro audio equipment manufacturer to date and MadProAudio is proud to recommend any EV product in a custom-built karaoke system. When looking for professional level corded mics for your karaoke system, it doesn't get much better than the N/D-767. With it's super-cardioid pattern, feedback rejection and VOB technology, it's difficult to not sound good. Manufacturer Details:
EV N/D-767
CAVS KARAOKE 203G USB SUPER CDG KARAOKE PLAYER
Cavs USA is the leader in new karaoke technology and the engineer of Super CDG technology. One of their mainstay players is the CAVS 203g USB karaoke player. We included this into this pro karaoke system as a cost-effective hard drive based back-up and simple CDG player for this karaoke system. For more info from our site:
CAVS 203G USB Karaoke Player.
RACKMOUNT LED FAN KIT
(4) Bank cooling fans with LED backlighting
CAVS KARAOKE HOSTER COMPUTER SOFTWARE
Cavs USA came out with the very first karaoke computer (JB99) back in 2002 and has not stop pushing forward with technology. With the desire to make their JB 199 karaoke software available to laptop users, Cavs Karaoke came out with the Cavs Hoster Karaoke Program which will load onto a 64 bit karaoke computer system (drive specific). More info can be found on our Cavs Touchscreen page:
Cavs Karaoke Software
Karaoke DJ Laptop - Toshiba Satellite 64Bit Windows 7


There are many different laptops on the market and they don't all play DJ and karaoke software equally as well. There are many different factors involved with picking the right laptop to store, run and rip karaoke DJ software and music. MadProAudio knows which laptops to use for what program and function. When purchasing a laptop system from us, you will know that it has been through our testing and is shiped ready to play. Here's the link to our Karaoke DJ Laptops Department:
Deluxe Karaoke DJ Laptop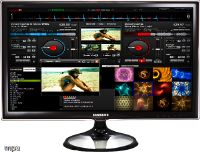 (2) LCD MONITORS FOR SPLIT SCREEN SHOW CONTROL AND KARAOKE GRAPHICS


The coolest Karaoke DJ out there is one that has karaoke software on his laptop screen, DJ video software running on an LCD monitor to the side and a flat screen monitor showing the karaoke graphics on stage with his own video background display. That's what MadProAudio set up with this Pro Karaoke DJ System.
ODYSSEY WERKLIGHT POWER CONDITIONER W/LED LIGHTING
This is the Odyssey Werklight Rackmount Power Distribution Pack with (7) color fade and chase LED light for this pro karaoke system. Every serious DJ or karaoke system should have a quality power point in their system. This Werklight not only 9 plugs; but, is pretty darn cool looking in the rack. Manufacturer"s Details:
Odyssey Werklight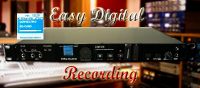 IKEY DIGITAL RACKMOUNT USB RECORDER BY GCI TECH.


Ikey Audio is a division of GCI Technologies. Their primary focus is on enhancing your ability to produce quality audio recordings with the help of playback monitors, headphones, audio mixing software and recording devices. MadProAudio encourages recorders in any karaoke system to allow customers a chance to cherish the memory of that "special" night through playback of a thumb drive. Manufacturer's Details:
IKey RM3 Recorder
MADPROAUDIO HIGH-END PRO KARAOKE DJ SYSTEM
After you've knocked your Karaoke DJ show out of the park and have gotten too many compliments to rememember, your new karaoke DJ system will pack up into a neat little package like this. This is the ultimate in Professional Karaoke DJ Systems that will be extremely hard for anyone else to beat in quality, functions, portability and price. We didn't include any music in this system. We carry SoundChoice, Chartbuster, Pop Hits Monthly and more. We can supply libraries based on what you want to spend and the type of music you want in your library. Just give us a call at 216-251-4444 and we can design a karaoke system, DJ system or combo system to fit your budget and needs. Thanks for looking at this system and we hope to hear from you.