MADPROAUDIO CUSTOM BUILT PRO DJ SYSTEMS


Here at Madproaudio, we NEVER let ANY manufacturer tell us what
to sell! NEVER let any manufacturer influence us on product because
to us, this is more about the true depth of helping our customers.
Be prepared to be blown away by how much we care about listening
to your EXACT NEEDS and then like an artist, quickly envisioning the
system we want to design for you. The process in which we go about
to design a system for our customers takes us anywhere from 3hrs.
to 3 months. YUP! We put countless hours into helping our customers.
That's why when you look anywhere online and read what people say about
us. You will find that they are ALL FAMILY! to us!
MadProAudio designs custom professional DJ Systems in Cleveland, Ohio and ships them all over the United States and Canada (even Australia). We use DJ components in our systems from Pioneer to EV Electrovoice to Allen & Heath to Gemini DJ and a bunch of others. We believe that when building a DJ system for a DJ, or especially a nightclub or bar, there is no way we can limit ourselves to just a few different Pro Audio equipment manufacturers. That only limits our capabilities and potentially makes the customer pay for it. Our Mad staff has been involved with the local Cleveland DJ, bar and nightclub scene for the past 10 years and are experts at bringing their experience in building any type of pro DJ system to your doorstep. Here are a couple examples of bar DJ systems that our staff has designed and installed: Also note with the Install team we have today. The number of places they have done since the 1970's would cause your computer to crash with how many pages of information we could provide you with!

The Blue Snapper of MiddleBurg Hts, OH
Equipment: (8) Bose DS100s (deck), MB4 & (2) 402s (theater dining), 802s & MB12s (bar), 32 SE (zones/restrooms)
The Barley House of Akron, Ohio
Equipment: (4) EV SX500s, (2) EV SX300s, (2) Bose 802's, (8) EV EVID 6.2s, (2) EV QRX 218s
Blue Moose Saloon, Parma, Ohio
Equipment: (4) Yorkville E15s, (2) Pulse 350s, (2) Ls700Ps, (14) EV EVID 6.2s (1) EVID 12.1, (2) QSC I282H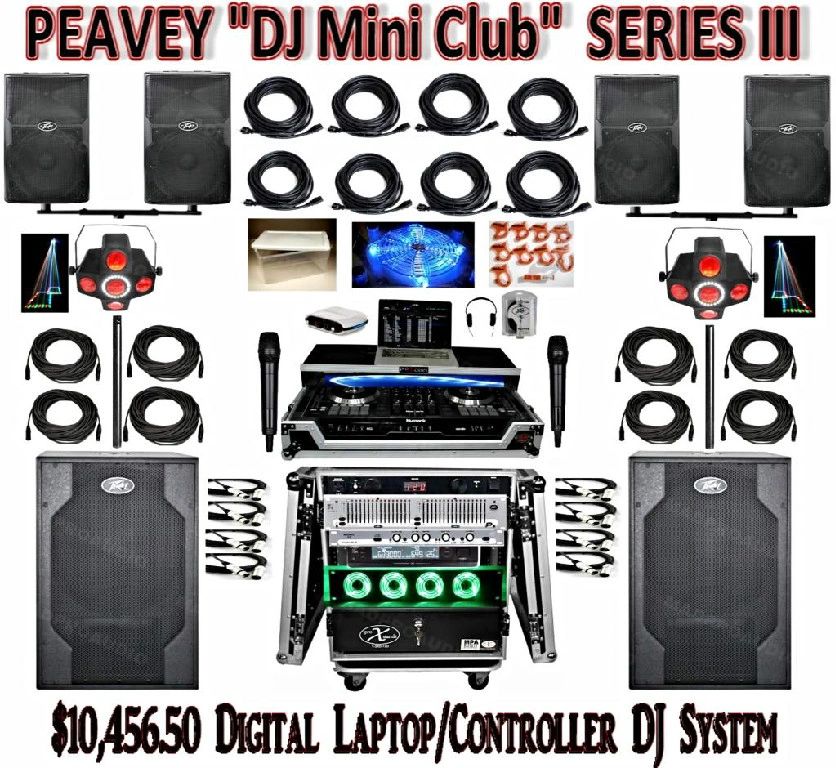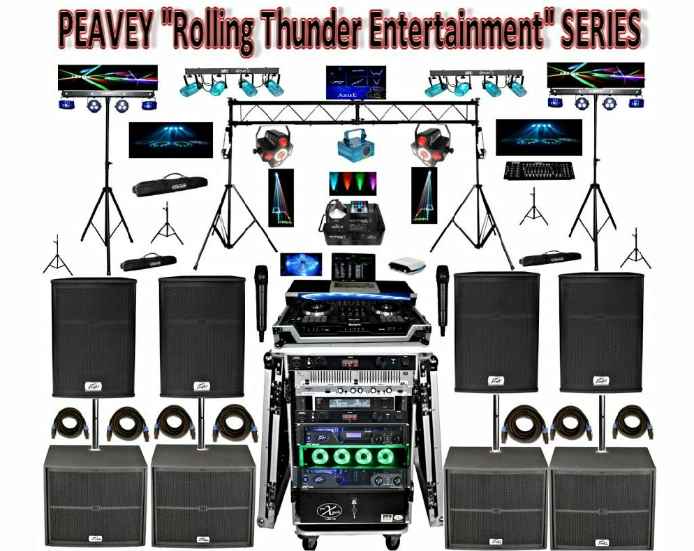 __________________________________________________________________________________________________
__________________________________________________________________________________________________
EV QSC PRO DJ SYSTEM BBE NEW CD IPOD MP3.
THIS IS A PRE-PURCHASE/SALE AUCTION ONLY.

THE SPEAKERS SHOWN IN THE PICTURE ARE EV ELECTROVOICE FORCE SERIES SPEAKERS WHICH ARE NO LONGER AVAILABLE. ELECTROVOICE HAS REPLACED THEM WITH THE NEW LIVE X SERIES MOBILE DJ SYSTEM SPEAKERS. PLEASE SEE OUR AUCTION FOR THESE IN OUR EBAY STORE.

EV FORCE QSC PROFESSIONAL DJ SYSTEM!
CUSTOM BUILT POWER HOUSE DJ SYSTEM BASED OFF OF THE ULTRA MOBILE EV ELECTROVOICE LIVE X SERIES SPEAKER SYSTEM, AND 2 (TWO) HI-POWERED QSC
RMX SERIES AMPLIFIERS!
THE SYSTEM YOU SEE BEFORE YOU IS AN EXAMPLE OF A CUSTOM-BUILT MADPROAUDIO HIGH END DJ SYSTEM. WE RUN THIS AUCTION YEAR ROUND, AND THERE MAY BE CHANGES TO DIFFERENT COMPONENTS. EXAMPLE: THERE IS A USED CD PLAYER IN THE PHOTO. YOU WILL ACTUALLY RECEIVE A BRAND NEW PLAYER THAT WILL MEET THE NEEDS OF A PRO DJ. OR TAKE THE MIXER AS AN EXAMPLE; THAT MIXER IS OUT OF PRODUCTION AND THE CUSTOMER THAT WE BUILT THIS SYSTEM FOR PURCHASED THE LAST ONE. SO WE ARE GOING TO UPGRADE THE MIXER TO ONE THAT HAS MORE MIC INPUTS, BUILT IN EFFECTS, ETC.. WHEN YOU SPEAK TO US DIRECTLY, WE WILL GO OVER THE ENTIRE SYSTEM AND ANY CHANGES MADE. OUR POLICY IS THAT WE WOULD LIKE OUR CUSTOMERS TO CALL US BEFORE BIDDING. THE HEART OF THIS SYSTEM IS STILL GOING TO BE EV ELECTROVOICE AND QSC BASED, IT'S JUST THAT SOME OF THE COMPONENTS MAY HAVE BEEN CHANGED OR UPDATED.
MADPROAUDIO BRINGS YOU THE BEST OF WHAT A DJ WANTS: MOBILITY, VERSATILITY AND POWER. THIS PACKAGE DELIVERS TEN FOLD WITH A HEAVY DUTY WHEELED FLIGHT CASE AND INTEGRATED WHEELED SUBWOOFER CABINETS. GET YOUR SYSTEM MOVED AND SETUP WITH EASE AND SPEED! WITH THIS FLIGHT CASE, YOU NO LONGER HAVE A NEED FOR A TABLE, AS ONE OF THE SHELL PIECES DOUBLES AS AN ATTACHABLE TABLE WITH IT'S OWN SET OF FOLD DOWN LEGS!
LET'S THROW IN VERSATILITY WITH THE ABILITY TO ADD A DJ LAPTOP , MP3 PLAYER OR EVEN AN IPOD IN THE MIX. RCA JACKS ON THE BACK OF THE MIXER ALLOWS FOR INDEPENDENT CHANNELS TO BE ASSIGNED TO MULTIPLE DEVICES OTHER THAN YOUR CD DECK. (

LAPTOP, IPOD OR MP3 PLAYER NOT INCLUDED

!)
A STEP ABOVE OTHER BOXED DJ UNITS IS THE TWIN AMPLIFIER SETUP. THIS BI-AMP CONFIGURATION, ALONG WITH THE BBE MAX-X3 CROSSOVER, ALLOWS FOR DISCRETE HIGHS AND MIDS TO CORRECTLY CHANNEL TO THE EV FORCE TOPS, WHILE THE BASS, AND LOW END FREQUENCY SOUND HITS THE FORCE I SUBS CORRECTLY. THE EFFECT IS TREMENDOUS, ACCURATE SOUND AT ALL LEVELS, AND WITH A SONIC MAXIMIZER BUILT IN TO THE MAX-X3, YOU KNOW YOU WILL BE GETTING ALL THERE IS TO GET OUT OF YOUR MUSIC.
THIS PACKAGE IS TEAMED UP WITH A BBE EQA215 15 BAND EQUALIZER, TO GIVE YOU BEYOND ULTIMATE CUSTOM CONTROLL OF YOUR SOUND.
TO KEEP THIS DJ SYSTEM COOL DURING IT'S WORKOUT, MADPROAUDIO PROVIDES 2 (TWO) RACKMOUNT INSTALLED FAN PLATES. THEY DRAW AIR FROM THE OUTSIDE IN TO FORCE-COOL THE INSIDE OF THIS SYSTEM, ALL THE WHILE GIVING THIS UNIT A UNIQUE TOUCH ON THE OUTSIDE.
OTHER ITEMS THAT COME WITH THIS DJ SYSTEM EXCLUSIVELY ARE A DUAL CORDLESS MICROPHONE SYSTEM, AS WELL AS A MIXER-MOUNTED DJ MICROPHONE. DJ HEADPHONES ARE INCLUDED AS WELL.
KEEPING THE ELECTRICITY FROM SPIKING OR CAUSING HARM TO THIS SYSTEM ARE TWO INDEPENDENT RACKMOUNTED SURGE SUPPRESSION UNITS WITH COMPONENT LIGHTING. THIS HELPS YOU SEE ANY ADJUSTMENTS YOU MAKE IN LOW-LIGHT SITUATIONS, AS WELL AS PROTECT YOUR ELECTRICAL COMPONENTS.
REMEMBER: No matter what system you see in the world, there is a REASON why everything is priced the way it is. So if you see another system we or others sell that looks like it has more, yet it is cheaper than this one. TRUST US, it is for a good reason. You always get what you pay for on every single level. We simply build the biggest bang for your buck on every price level you can imagine. We shoot EVERYTHING straight to our customers because we put ALL of our hearts and souls into what we do here.

We are proud to say that we dislike your typical salesperson, hate the cheesy ads that claim you are getting thousands of watts of power, or getting a system that is worth thousands more than you are paying. Believe us. If we are giving you a system that is worth thousands of dollars, you are going to pay thousands of dollars!

The biggest reason we insist upon talking to the customer before they purchase is more so due to the simple fact that respect goes both ways. We have YEARS of experience that tells us that anyone who does not care about communication, going over the system is not a proper fit for us. We are not in this to make a quick buck, so do not treat us in that manner! You MUST care as a PERSON, not just a customer. We have an unmatched reputation over how we personally treat our customers.