Our MadProAudio Staff has been selling DJ and Karaoke systems, equipment and music to Cleveland Karaoke enthusiasts, DJs, Bars and more for over 10 years. We are also well known in our surrounding states like Pennsylvania, Michigan, Indiana and Kentucky. Our staff is trained in retail from the era when "Mom & Pop Store" meant service and care for the customer as if they were a part of the family and not a dollar sign. We have been applying the same feeling to our local customers and the internet through our Ebay auctions and now our web site since May of 2008. Just climb aboard our website and enjoy the ride while looking for a DJ System, Karaoke equipment or cool dance lights.

Pennsylvania, Indiana, Michigan, Kentucky Special: For all those people that would like to drive in to pick up their system, this is for you - Our staff will have your whole system set-up for you and give you as much of our time that is needed until you feel comfortable with your purchase. We have been known to spend 5 hours going through a system, talking karaoke stuff or just getting to know you. Some of the systems we sell are complicated and nothing beats hands-on training if you want to drive up here. Then, after that's all done, we'll take you next door to our neighborhood diner and get you filled up before your journey home. . Oh, and of course, we'll deduct the shipping cost of your equipment and probably throw in some free stuff before you leave. That's the least we can do. We appreciate and your business and that appreciation begins when you pick up the phone.


(Additions to this site will rapidly happen and we hope you comeback around to see them. . (Disclaimer: "Rapidly may not seem rapidly to ALOT of people. . Especially, you twenty-something year-olds).

Thanks from the Mad Staff.
GuestBook Page Entry Rules:
Here are the rules for posting to the GuestBook Page (we will generally publish GuestBook comments as long as):
1. It's not full of vile, negative, nobody-wants-to-hear-it crap that doesn't benefit anyone; not even the person that wrote it.
2. And that's about it. . . Oh, and we tend to shoot straight from the hip and don't pull too many punches. Hence, the word cr*p.
Every one of our MadProAudio Staff Members have witnessed the downfall of the legitimate karaoke music market through the sale of pirated discs and hard drive units. We truly understand the rationale of consumers who are contemplating purchasing a loaded drive with a bazillion karaoke songs for a few hundred bucks. But, IT'S JUST FLAT-OUT WRONG!
Why in the world would anyone think that it's alright to take a product that someone spent time and money producing, marketing and hoping for a return on their investment and just copy it and sell it for 1/10th the true value of the product and essentially tell the manufacturer to go pound salt because it's only karaoke.
MADPROAUDIO HATES ALL COUNTERFEITERS; BE IT KARAOKE, DJ MUSIC OR ANYTHING THAT IS ILLEGALLY REPRODUCED. THE FOUNDERS OF OUR COMPANY ARE FORMER MILITARY AND TAKE IT VERY SERIOUSLY WHEN PIECES-O-CR*P TRY TO MAKE A QUICK BUCK AND HELP SCREW OUR AMERICAN ECONOMY BY SELLING KNOCKOFF GOODS IN OUR COUNTRY. IF YOU ARE LOOKING FOR ILLEGAL MUSIC, STOP RIGHT HERE AND SHOP ELSEWHERE. . . HAVE A NICE DAY.
MadProAudio sells systems and packages WITH ORIGINAL DISCS!!!!
We DO NOT sell homemade copies of disc nor WILL WE EVER!
Ask these types of questions for those sellers that are trying to give you loaded drives with no disc, or claim they have a digital license of some kind or that they own the rights to the music they are selling you. If they respond to your emails and ask you to call them, make sure they answer your questions
in writing
first!
Question 1
: Are you a member of the KIAA? (go to thekiaa.org site to research)
This is an Anti-Piracy agency made up of actual karaoke manufacturers such as Soundchoice, Chartbuster, Pocket Songs, Just tracks, Pop hits monthly, and so on.
Our answer
: We are a proud member and in good standing)
Question 2
: Do I get every last ORIGINAL disc that matches every single song you sell in the hard drive package?

Our answer
: We have ALWAYS given every disc. We give the actual discs that match the songlisting, exactly.. Not like some people that claim they will give you a few hundred discs that you later find out don't even
match what you purchased. We have had potential customers that used our questions in the past and were promised all the disc from other sellers. . Later on, the customers came back to us and said they had been duped! Remember, if it sounds too good to be true; then usually it is.
Question 3
: A seller claims to have a digital license and will even put it in writing. Who knows, maybe there is such a thing that NO ONE else in the karaoke business has heard of! It's more important that you ask for the ACTUAL documents showing that they have a digital license (?) to sell the drive with no discs. Then, send the documents to the Anti-Piracy organizations to look at like the info@thekiaa.org , RIAA, BMI, ASCAP, Harry Fox. MadProAudio makes no claim in being authorized to verify the legal standing of any "proclaimed" license to produce copyrighted material.

Our Answer
: Heck no, we don't have a "digital license" to make anything. That would be nice. But, . . )
Tell us what you are being offered and we will arm you with all the right questions to ask. We have seen online reports of well OVER 100 lawsuits filed against people with pirated material/loaded drives, etc. You have nothing to lose other than
a lot of headaches in the future! ALL we can tell you is that we get some of the best prices in the country.. Our prices are more than fair, more than realistic for EVERYTHING we sell. Your research not only protects you from those that would harm you in the long run. But, it will also lead you to other companies that you might like to shop with. We are not the ONLY place to buy from.. Yet, we will FOREVER say that we put ALL of our hearts-n-souls into EVERY last transaction.
Final Thought: We have never met a KJ/DJ that is truly successful operating on the shady side of life. Trust begins with honor.
MadProAudio is NOT affiliated with any other Karaoke/DJ Store in Cleveland, Ohio or it's surrounding cities. We must make this clear because of the number of phone calls we take with that question being asked. We strive to gain your trust immediately when we answer your call and we hope this fact will help alleviate your concerns before the phone is dialed. Our morals were acquired from our parents and our ethics honed by service in both The U.S. Navy and The U.S. Marine Corps.

SemperFi.
SALES@MADPROAUDIO.COM
216.765.9925

We spend more time expressing the emotional connection we have to this business. We make no bones about it, we DISLIKE what the sales world stands for. We know that 99% of all sellers concentrate on pricing & hype to get many more sales than us. We get it, we are never going to be rich playing honest in this industry. Thankfully that's not what we are here for which makes us unique!

Our family (Customers) are simply the remaining souls that still care about more than bottom line pricing. Ask ANY of them, they will tell you that we may be border line crazy when it comes to how much we do for them. You will hear it over n over again that we walk thru fire for them!

My journey began when I was a kid. My father started an electronics business in the 1950's. We would go on service calls with him. My father treated his customers so well that I often thought the persons house we were at was family. (no kidding!).

One time that sticks out in my mind was at 9yrs. old. I went on a service call with my father. He spent what seemed like hours trying to fix a TV for a customer and then pulled from his old leathery tool case a tube and wahla, the tv was fixed. He then proceeded to tell the woman that it only cost about $2 or something like that. The woman was close to tears because here is a man she barely knows that drove across town to help her and did not charge her that day for the service call. & believe me, we could of used the money 9 kids wearing all 2nd hand clothing. The point is that my father was wired different. He cared so much about humanity, that he displayed it in all that he did for his customers.

I started out in the audio business as a reluctant salesperson because I truly hated salespeople and thought most of them were nothing like my father. I worked for other companies in my life and was never happy because they were just that. A COMPANY! A MACHINE! They were places that did not share my core beliefs. Even to the point where one time a supervisor told me to run a customers card that day even though I did not have permission and he cited that "what if the customer dies tomorrow, you have to get their money today". The birth of this company was born from that.

We realize that there are consumers that will never purchase from us because we do NOT haggle, we do not compare prices with others. We put too much time n effort into everything we do, WE ARE PRICELESS in that regard. When everything is done from the heart, it is impossible for us to change the way we feel, the way we treat people, the extra mile we go for EVERYONE regardless of what they spend. When you were born to be a social worker, & somehow became a pro audio dealer, it's just too hard to change who we genuinely are. You want cheap, the rest of the world is lined up to have you as their next dollar. But if you want more than just a piece of hardware, then your search is over!
Deluxe Karaoke DJ System
:
QSC
- Karaoke DJ K12/KSub Pro Speakers;
Allen&Heath
- Karaoke ZED12FX Karaoke Live Sound Mixer; Cavs Karaoke - Karaoke Program, Karaoke Player, Karaoke Laptop;
EV Electrovoice
- Karaoke Live Sound Professional Microphones; Odyssey DJ Karaoke Rolling Case; - Wireless UHF Microphones;
Art HQ231
Pro Audio Equalizer;
BBE
- Pro Audio Sonic Maximizer & Much More)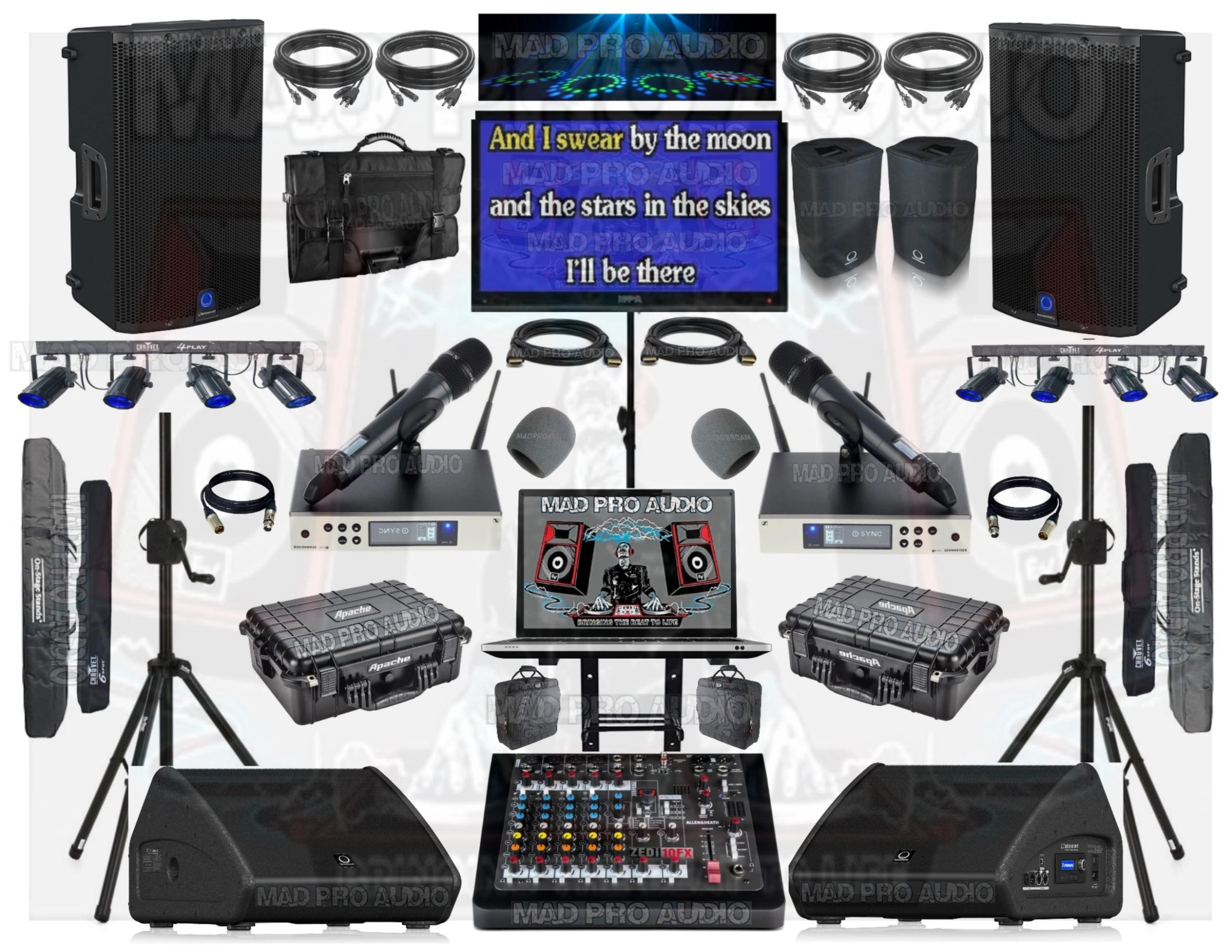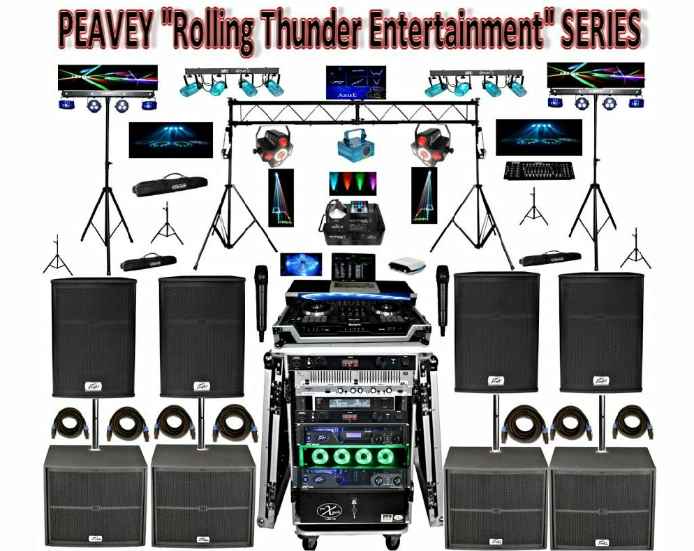 The PEAVEY "Rolling Thunder Entertainment" SERIES system was designed for a CLUB DJ that wanted to start his own business with a BANG! This $18,000.00 system is nothing short of the WOW factor. Even so, we scaled back it's design due to the customers budget and actually wanted to be more in depth with it. System consist of the Peavey EU118 Passive Subwoofers, Peavey EU115 Passive Loudspeakers, Numark NS7ii dj contoller, complete amp rack, Peavey QF215 EQ, Peavey IPR5000 Amplifier, Peavey IPR3000 DSP Amplifier, Audio2000 AWM6548u dual wireless microphones, Peavey Kosmos Processor, (2) Power Conditioners, Chauvet RGB Geyser LED fog machine, Chauvet 4 play cl. lighting systems, Chauvet Gigbar systems, xstaticpro dmx light controller, xstaticpro crank up lighting truss, crank up speaker stands, laser light, Chauvet lights, and much more than the eye can see...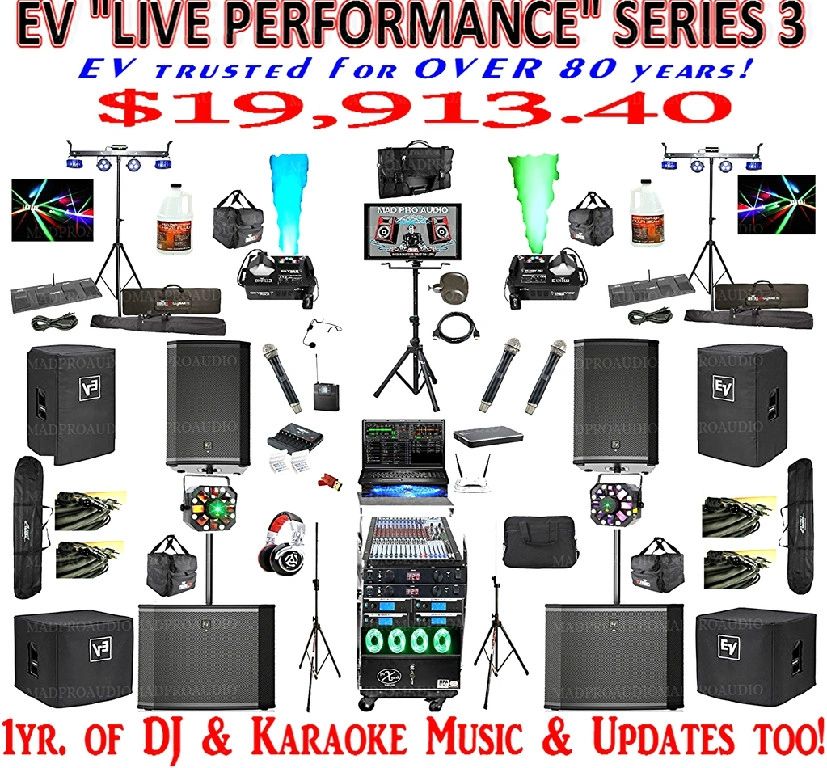 EV "LIVE PERFORMANCE" SERIES 3
System. A classic example of why we tell consumers that there is so much more than the eye can see. For example; If we were to look at the system just above it, one might think that the other one is better and cheaper. It is when you truly understand the differences between the systems that you then see the pros and cons to both. One example would be that the EV system has more than one software running, Laptop & a complete dj/karaoke subscription library paid in full for a whole year with new releases each month included. This system also has 4 wireless microphones made by Electrovoice. The
EV R300 wireless microphone
. Not 1, but TWO higher end
FURMAN
power conditioners
, OVER 3TB. of drive space!!! and so much more...
This system was designed for the professional host that needs to meet several different demands. Unlike the other system above that is geared just toward DJ. This one taps into several markets. DJ, Karaoke, Bands hooking into your system, Live performances. The mixer alone is none other than the
Peavey FX2 16
channel Hybrid Digital/Analog mixer. This mixer alone is a $849 piece of equipment and it is next to impossible to find another mixer that does all that this one does for the same price. The EV microphones are what we refer to as rock solid industry standard. In fact, we installed 3 units into our church recently. Of course there are many other wireless mics out there that would trump this one. Yet hard to beat at the price range it is in. Plus having 4 of them so you can have 3 for customers and 1 headset for yourself. In addition to this. The Newer family of EV speakers in this
EV ETX
series. Believe it or not, we tend to be partial to Peavey most often due to the bigger bang for the buck you get. Yet make no mistake about it, there are always reasons why you chose one or the other. In fact, we use EV for all our installations. In addition to this, you have a lot of bells n whistles that come with system too. Never forget, EVERYTHING cost what it does for a GOOD REASON! Example; If we wanted to play the same game as so many others have done, we could easily sell this system for HALF the price if we used trickory, and the infamous method many use with PIRATED or Unauthorized music! You will be able to pick up a phone and call the manufacturer to VERIFY 100% that the music you get is DIRECTLY from them!!! Something we bet COUNTLESS OTHERS CANNOT PROVE!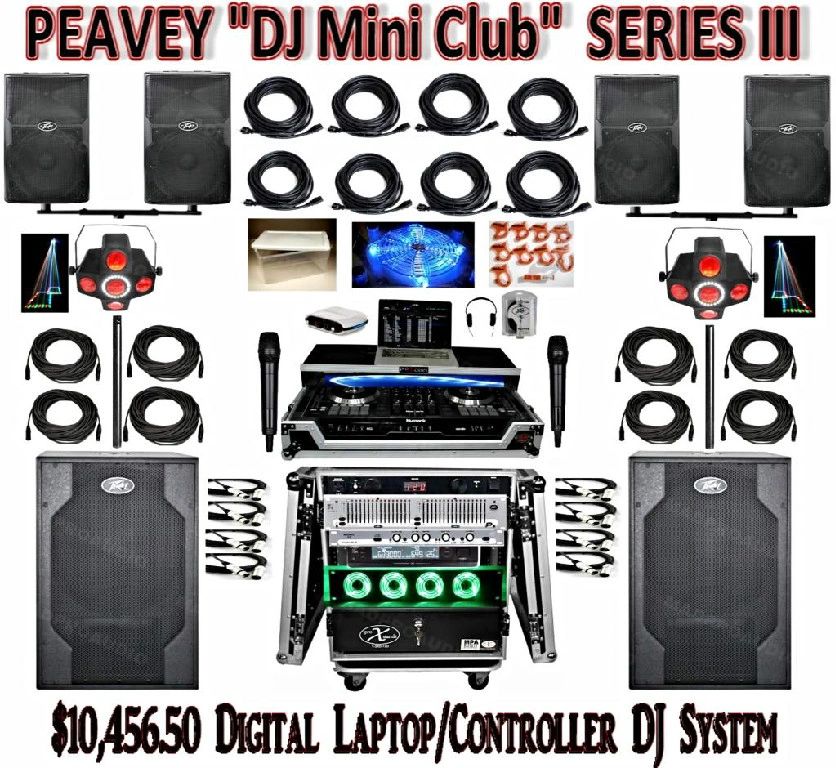 ------------------------------------------------------
JUST A FEW OUT OF THOSANDS OF COMMENTS MADE BY OUR CUSTOMERS.
WE TRULY DO PUT OUR HEARTS AND SOULS INTO OUR CUSTOMERS!

------------------------------------------------------
I've been to our local music stores here and it seems like they can never get what I want right, So I was referred to MadproAudio by my brother. I was skeptic at first because if the guy in front of me can't get what I want right, how on earth can someone hundreds of miles away get it right. But I gave them the benefit of the doubt and I am glad to say that it was an awesome experience. Not only did he really "listen" to what I want or need, he treated me like I was the only client that mattered. I'm very proud to say I am a MadproAudio client for life! Where the beat keeps kickin and the soul keeps singin, cos they provide all the right equipment!

by Kalia V.
------------------------------------------------------------------------------------------------------------------------------

Total professional!! From the start he listened and explained what he felt would be the best system for my needs and budget. Coming back in the business after a 20 year hiatus you can only imagine the wake up call when trying to put together a system that would fit my needs a provide a impressive show for my customers. Beginning to end patience was this man's middle name! He put together a top shelf package at a cost no one could come close to matching. The write ups are not hype. Give him a call. YOU WILL NOT BE SORRY!! Thanks again for an outstanding experience. I look forward to working with you again in the near future.. ***** ** North Myrtle Beach, SC
-------------------------------------------------------------------------------------------------------------------------------------------------------------------------
This company Talks the talk and just found out that they Walk the walk. I bought product from
madproaudio 2 years ago and recently had problems. I found their email and contacted them about my problem. They definitely are who they say they are. Thanx again Madproaudio.
by pete g.
----------------------------------------------------------------------------------------------------------------------------------


Hmmm, where to begin? How about with AWESOME!! I had done my due diligence looking at mid-quality karaoke systems for my daughter to get her feet wet with mic singing and recording. Now I needed to find someone knowledgeable and trustworthy to ask if I'd done my research correctly and if the system I chose would be sufficient. In walks MadProAudio. I called them. Man! I couldn't have found a better person to help me. He is not only knowledgeable, but extremely helpful, kind, courteous, caring, and honorable. This guy bent over backwards to accommodate me, and was super patient with me when I messed up our transaction not only once, but twice. LOL I'm hooked on MadProAudio!
-----------------------------------------------------------------------------------------------------------------------------------------------------------------------------
I am new to the Karaoke/ DJ business and started researching the proper system I would need. When looking online I was overwhelmed by the amount of audio businesses out there. When I began to read the reviews for these companies, one began to stand out among the rest Mad Pro Audio! When I finally decided to pull the trigger on a system I called and spoke with Jeff. Let me tell you this guy is completely knowledgeable and accessible. He did not try and sell something I didn't need just to make a buck. He listened to my needs and what I hope to accomplish with my new system. I gave him my budget and I was more than impressed with what he had to offer me in my price range. In this field you definitely get what you pay for. If you try to go cheap, it will show in the performance! After finalizing everything with Jeff I decided that I wanted to travel the 3 hours from my ome to see the set up myself and learn everything I need to be proficient with my new system. Jeff was gracious enough to allow me to come on a Sunday. When I arrived I was excited to see that the system was set up and ready for my inspection. Let me say that I was more than blown away! For what I spent, this system ROCKS! I received way more for my money than I expected. Jeff went out of his way to ensure that I was comfortable with every aspect of the system before we packed it up. Jeff and Mad Pro Audio is the only company I will deal with in the future. You cannot find the level of personal attention that he display any where else. Stop shopping around for the best deal and only deal with the BEST! MAD PRO AUDIO
by Donovan J
--------------------------------------------------------------------------------------------------------

This is the second time I have purchased a KJ/DJ system from Madproaudio. Each time I have worked with them it is the most gratifying experience that you can imagine. Not only do they customize your system to fit your needs they customize the entire experience. They are the most trustworthy, loyal, friendly, courteous, kind , caring, and responsive company in the world, no exceptions. I would highly recommend them when purchasing a DJ or KJ system. Talk about the WOW FACTOR they provide it always. you will never be disappointed when purchasing something from them.

by Bradley M.
------------------------------------------------------------------------------------------------------------------------------------------------------

I am a former Clevelander who by accident found Mad Pro Audio three years ago. I now reside in Florida where I do a little KJ and sing a longs for the Country Clubs, campgrounds in the winter season, and even some retirement homes. They set me up with a great package then. As we have refined our "gigs" over the years, I now am working with Jeff again on a computer driven system that will travel well and yet provide the sound quality that we seek. I completely trust in his knowledge and judgment on the proper components and on his ability to build the system that will work well for years to come. HE LISTENS!!! How many times these days does that actually happen? I was in Cleveland this summer and looked Jeff up. He took time on his day off ( while he was working at his Church Carnival ) to answer my questions, and then set me up to visit again the following week while he demo'd a new system to a client who was picking it up. I came up with more inquiries, but they have been answered very quickly. I know a lot is made about internet pricing of components and savings ( maybe??? ) of a few bucks here and there. When you are seeking a quality system that will do what you want it to do, time and time again in live performances, trying to save is really cutting corners, and you don't want to cut corners in this business...you are selling fun and entertainment and a sub-grade system means sub-grade performance. I was in business for 45 years prior to retiring a couple years ago, and what was true during that time is still true today...you get what you pay for...not just equipment, but knowhow and confidence. I will always recommend Jeff and Mad Pro !!!

by Rich from Naples
-----------------------------------------------------------------------------------------------------------------------------------------------------


I don't know if I have the words to describe how well I was treated throughout the entire process. I recently purchased a complete karaoke / pa system from the good people at mad pro audio. I made my choice based on the feedback I reviewed from other clients of mad pro audio and the abashed way that mad pro proclaims that yes you will pay more but the customer service will be second to none. They speak the truth. You will pay more, but their commitment to customer service before, during and after the sale is amazing. I cannot recommend these folks more. I am a customer for life. I drove from Myrtle Beach SC to Cleveland Ohio to pick up the system I purchased. 26 hours round trip. It was totally worth it. I would do it again in a minute. Thanks to all at Mad Pro Audio. You guys are the best.

by Edward T.
--------------------------------------------------------------------------------------------------------


As a business owner whom also makes customer service one of our top priorities,it's a breath of fresh air to find another business that excels in customer satisfaction. My transaction with you went well above anything I have experienced in a long long time. The extra effort and time you put in on our purchase,and the detailed instruction and prompt return of communication, whether by e-mail or by phone, exceeded all my expectations and more. Thanks you for your personalized service, and all the help setting up my system. Just when you think that all the businesses these days were more interested in a buck, than in truly satisfying their customers, along comes a company like yours that truly cares. Thanks for everything, and keep up the good work. It's been an awesome experience!

by Karl J.
--------------------------------------------------------------------------------------------------------




This is the best company to deal with on internet. They are really honest, willing and really helpful. They will go above and beyond to help you in any way or shape. If anything is wrong with your order or even you made a mistake on your side, they will try to make it right. In today's world, how many companies do you find who will provide you with this kind of honesty and service. I can not thank them enough and sincerely appreciate whatever they have done for me. God Bless!!!

by Key D.
--------------------------------------------------------------------------------------------------------



Let me just start by saying i bought my system for karaoke from madproaudio about 4 or five years ago. When i was looking i talked to about fifty dealers who would just give me the run around on what i needed and what i had to have to run my shows. I stumbled upon madproaudio gave them a call. First person i met that seemed willing and interested in helping me start my business and do things the right way. I have since called several times with questions and have never been pushed to the side or been treated differently. it has always been the best customer service.

by dave f
--------------------------------------------------------------------------------------------------------



If your looking for a top class company to do business with, these guys are the ticket. they go above and beyond to satisfy their customers and will take care of your needs no matter what it takes. I have been doing business with them over a year now, and as a re-entry DJ - turned these guys even though they may not have been the best price, became interested and wanted to buy from them because of their superb customer contact and communication. Since buying a new system, I have had several instances of being able to communicate directly with the owner Jeff on several occasions, and he gets back to me very timely and addresses my issues professionally and with great courtesy. YOU WANT TO TURN TO THESE GUYS BEFORE SIMPLY BUYING ON PRICE. !!! MADPROAUDIO SHOULD BE YOUR CHOICE FOR GETTING WHAT YOU PAY FOR ALONG WITH THE SUPPORT NEEDED FOR YOUR POST PURCHASE QUESTIONS TO GET THINGS HOOKED UP AND GOING SMOOTHLY.

by David M.
--------------------------------------------------------------------------------------------------------

I just cannot say enough good things about this company. They go WAY BEYOND the call of duty to make sure that everything goes absolutely perfect. Even if it has nothing to do with their equipment. Several months back I found myself in a situation where our DJ had left us and took his equipment with him which left us without a DJ and without the ability to carry on. Let me tell you when that happens it effects business DRAMATICALLY So as I was searching for a sound system. That's how I stumbled upon MADPROAUDIO. Instantly, you will realize you have people who care about what they are doing and not just seeing dollar signs in their eyes. When all other companies just blindly sold systems, these guys spent countless hours working on actually designing a system that suited our needs, (You don't get that with other companies). They even had me send them photos of the layout of the building so that Mike (Who proves he is a REAL club engineer) could analyze it a bit and come up with just the right combo of speakers and subs As so not to over power the room but to give it a significant improvement over what was being used in the past. Our dj at the time even did research here locally and other places and the one thing I noticed is that the only way other stores wanted to get the sale was to undercut the next company. This was not the case with madproaudio. For people who REALLY VALUE the overall experience, this is where ALL the others are left in the dust and cannot compare to MADPROAUDIO. Believe me when I say that when they heard my problem and how fast we need to act on this took on this task in a very personal manner. A custom system that should of taken 7-14 business days as they stated in their ad was done in record time. These guy came in during their days off and even worked through the night just to finish the system! By the way. How about Mike (the guy who put the finishing touches to the system). WOW, just when you thought that they could do no more, this guy wired this system as though it was going to be displayed in a museum. You can tell that they put so much more pride into what they do than I could ever remember elsewhere. Can't say it enough times THESE GUYS ROCK!!! Everything is beyond what I have ever seen! Now here comes the ABOVE AND BEYOND after the sale. These people are no longer making any money off me and they still treat you as if I was going to spend tons of money with them. Believe me, we have gone through a couple dj's here at our place and have had issues with the equipment. The biggest thing that salespeople do is promise you the world after the sale and most often never deliver. These people showed me once again that EVERYTHING they do is from the heart. When they first spoke to me and the dj. They made it clear that they understood that I could find cheaper prices everywhere online, that was the easy part! Yet they promised me that I would NEVER find another them! That they were worth paying the right dollar amount and not haggling over price. They are SO RIGHT. Jeff at MADPROAUDIO is always the lucky one to answer the phone and hear me on the other end saying its meeeeee…He has personally gone to bat for me with the tech support on the cavs 203g usb players that were installed into my system. Jeff has demanded that they make it a priority to take care of me even when the problem was not even their fault or responsibility. I have decided that when it comes to dealing with Madproaudio your not just a customer you become part of the FAMILY.



by Patty T
--------------------------------------------------------------------------------------------------------

The folks at Madpro are the best I can say I have ever dealt with. Not only did our VFW Post get the best price for our equipment , I was given a personal phone number in the event we had any problems. And I had to use that phone number one night to resolve a problem. 10 pm on a sat. Night for two hours on the phone, and they where there for me every step of the way. I recommend them to everyone I speak to. Wish all retail stores where like them.

by VFW Post 10980
--------------------------------------------------------------------------------------------------------

Imagine my surprise... finding a business that stands behind the products that they represent and actually giving customer service instead of lip service! I was floored, no... I was astonished! I had a problem and the Mad Pro Audio staff went to work. My problem was solved in less time than it took to write this. It's said that the clients of Mad Pro are treated more like friends than business acquaintances, well I can say that after an extended phone conversation with one of your people, I feel like I really have gained a friend or two! TRUST is something that is earned, and I'll tell you that you have earned both my trust and my loyalty. When it came time to purchase a second CAVS JB-199 unit ( a pricey little unit to be sure ) I didn't even bother to "shop around". I knew that the best place to invest in an expensive and important piece of equipment was where I would be treated like a valued friend. Thank you!

by DJ-Mace
----------------------------------------------------------------------------------------------------------------------------------------------------------------------

I contacted Madproaudio about purchasing a system and thought he could help me figure out more what I needed than just ordering one of the systems they had for sale. They called me back and from the first conversation it was more like talking to a friend I had known for years than a business call. From the beginning he never once tried to push me into anything and gave me pros and cons to every thing that was presented and asked. He gave me the option to come pick up the system versus shipping it which was a wonderful option for me. He was very patient with me through the process because being a mother of two my life gets a little hectic and sometimes it took me some time to get back to him. He let me know everything that was going on, on his end and actually finished my system over a week before scheduled. When I came to pick up the system he had it set up playing when I walked through the door and I really want to say that it EXCEEDED my expectations!!!! There were some things that he suggested I add and I agreed not knowing how it would come together.... I was amazed by the sound of my system. I have been to clubs where I am sure they had the best system money could buy and in my opinion this system could put some of them to shame!!! My overall experience couldn't have been beat! You really are paying for quality, in product AND customer service. Even after buying my system Jeff has stayed in contact with me and has offered assistance and answered any questions. I am so grateful to find that there is still good honest people that will do right by you in this economy. I would recommend this company to anyone!!!!!!!!
---------------------------------------------------------------------------------------------------------------------------------------------------------------------

I usually don't go out of my way to leave positive reviews for merchants/companies I do business with… however, when I do business with a company like Madproaudio, I feel it's my duty to inform other's (if they don't already know) of the great service and attention you can expect when doing business with these pros! When you do business with Madproaudio, you can expect to get the absolute best value for your money, and even more importantly, you will be treated as a valued customer by their very knowledgeable and friendly staff. The product quality/value, communication, and attention to customers needs are second to none. Very satisfied Madproaudio return-customer!

by Jon B.
----------------------------------------------------------------------------------------------------------------------------------------------------------------------